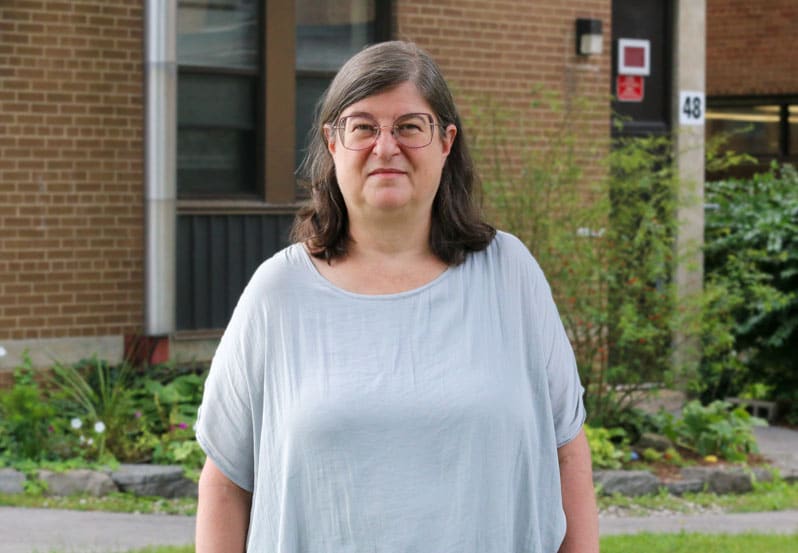 Dr. Anina Abrie has found work-life balance since coming to Niagara Health after working at hospitals in Cornerbrook, Nfld., and South Africa. 
Work-life balance has eluded Dr. Anina Abrie for much of her career.
Until now.
How did the Niagara Health (NH) psychiatrist finally crack the code on a harmonious relationship between her professional and personal lives?
She accepted a position last January helping patients in NH's internationally recognized Wellness Recovery Integrated Comprehensive Care (WRICC) and Centralized Access to Psychiatric Services (CAPS) programs.
Since then, Dr. Abrie has positively impacted the lives of patients living with complex mental health needs as part of a team that develops collaborative care plans toward improved wellness. She's done that in what she describes as Niagara Health's "culture of kindness and helping each other," and under the leadership of Dr. Victor Uwaifo, Chief of Mental Health and Addictions, and others, who are always keen to improve how things are done by implementing new ideas from staff.
She's also had time to become a frequent visitor of the Toronto Symphony Orchestra, able to enjoy performances in the city twice a month.
"It's just been a miracle to me. Everything I've ever wanted to have is around here," Dr. Abrie said. "Within nine months of being here, I have work-life balance. I've not been able to have that anywhere I've worked."
Dr. Abrie was one of dozens of new physician recruits whose arrival at Niagara Health was celebrated recently at a meet and greet. It was the first time since the start of the pandemic that Niagara Health leadership could welcome new doctors from all specialties, with more than 80 hired since 2021, at a social gathering in their honour.
Specialties of new physicians hired in that time include general internists, hospitalists, gastroenterologists, oncologists, radiologists, pathologists, obstetricians and gynecologists, emergency medicine physicians, psychiatrists, pediatricians, anesthesiologists, cardiologists, an orthopedic surgeon, general surgeon, family medicine physician and neurologist.
"This is one way of creating relationships between new physicians and their colleagues bringing them together as a family of Niagara Health," said Dr. Satish Chawla, Interim Executive Vice-President, Medical and Chief of Staff. "Niagara health is one of the most attractive places for physicians with all the great things Niagara Region and Niagara Health has to offer for everyone."
Dr. Abrie came to Niagara Health after nine years in Cornerbrook, Nfld., and before that, serving as head of clinic systems at the third-largest hospital in the world, Chris Hani Baragwanath in Johannesburg, South Africa. In her role there, Dr. Abrie oversaw 46 clinics serving 48,000 patients.
"It's a huge bonus being in a community hospital versus a larger academic hospital. It's possible to do a lot in a community hospital. That's the benefit of Niagara Health."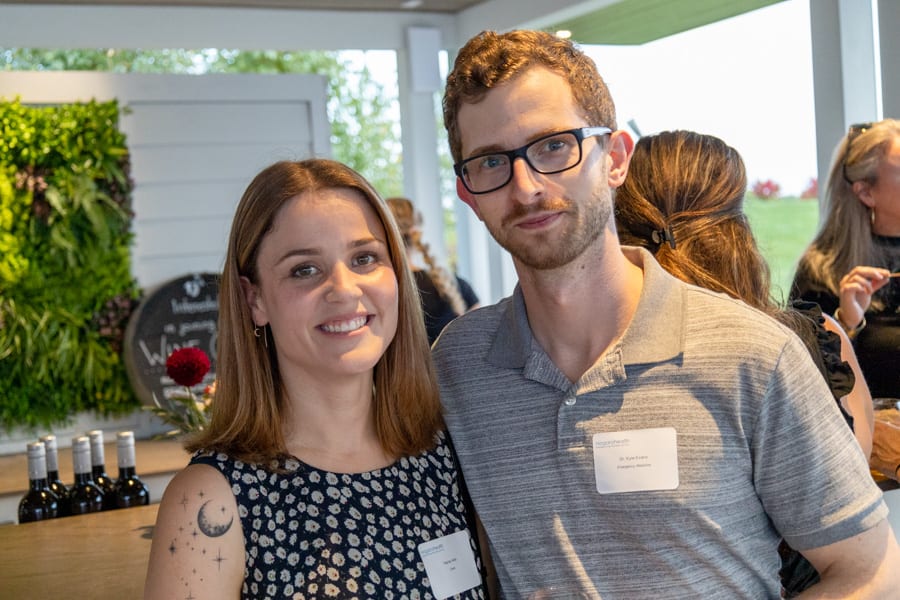 Dr. Kyle Evans (right) and his partner, Hayley, at the Physician Meet and Greet. Dr. Evans is a new Emergency Department physician at Niagara Health. 
She left South Africa for Canada 10 years ago, drawn to its publicly funded healthcare system. She's staying for quality of life and the impact she is having with the WRICC program, including one patient who came to the hospital for care 300 times last year but thanks to a new care plan implemented earlier this year, has since visited hospital only seven times and been admitted just once.
"You see these patients coming to the hospital every night and then you put a care plan in place and now they come less often," Dr. Abrie said. "What an incredible, caring place for implementing this program."
Fellow psychiatrist, Dr. Christine McClelland, came to Niagara Health in 2021 for the opportunity it provided after she finished her residency at Dalhousie University in Nova Scotia and served as a locum in a community hospital there.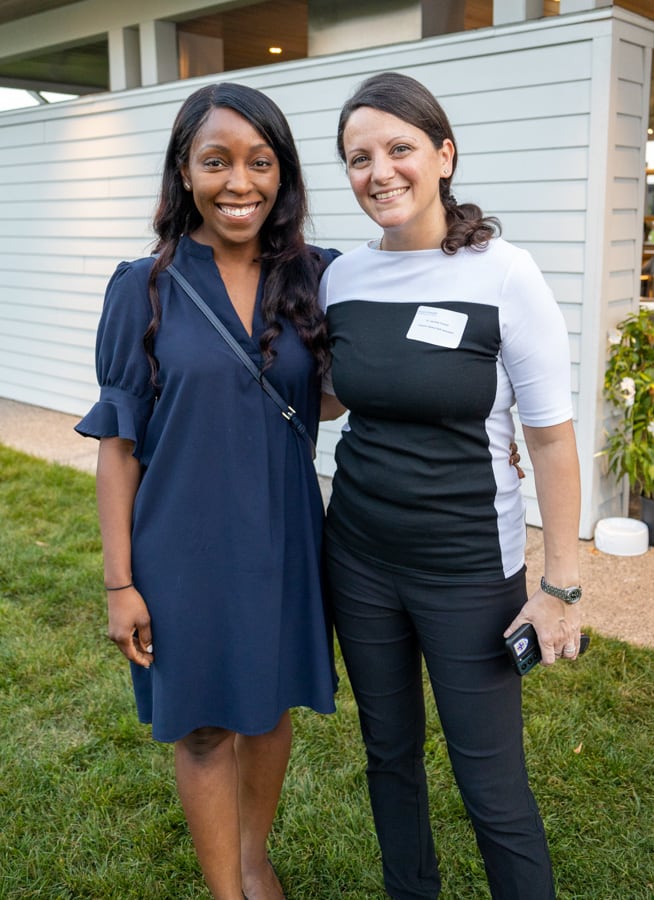 Dr. McClelland works in both inpatient and outpatient programs in Mental Health and Addictions and in the Emergency Department.
"It's a huge bonus being in a community hospital versus a larger academic hospital. It's possible to do a lot in a community hospital. That's the benefit of Niagara Health," she said.
Another perk is her colleagues.
"They're very welcoming and everyone's really motivated to make things better to enhance patient care," Dr. McClelland said. "It feels like a community of colleagues as opposed to us operating separately."
Emergency Physician Dr. Kyle Evans trained at McMaster University's Michael G. DeGroote School of Medicine – Niagara Regional Campus under NH Intensivist Dr. Joyce Lam before being hired at the hospital two months ago. He was able to try his hand at different medical specialties before choosing emergency medicine as his focus. Meanwhile, his partner, Hayley, has been able to pursue her career as a teacher in nearby Halton region.
Dr. Evans looks forward to the possibility of one day paying it forward by supporting and teaching other medical students at Niagara Health.
"When you go through training, there are staff who impact you quite a bit and it's nice to be able to do that as well," Dr. Evans says. "From my perspective, it keeps me fresh and gaining new insights on the things I'm always seeing."
New physicians have the support of their veteran colleagues, Dr. Alison MacTavish, President of the Medical Staff Association, told the crowd at the meet and greet. They are also eager to build a better Niagara Health together.
"We plan to be leaders in culture," Dr. MacTavish said. "You are valuable and your past experience enriches our hospital. Your new ideas bring us into the future."
Photo above right: Emergency Medicine Physician Dr. Pamela Kapend and Family Physician Dr. Jennifer Frendo weclomed new physician recruits at a recent meet and greet.