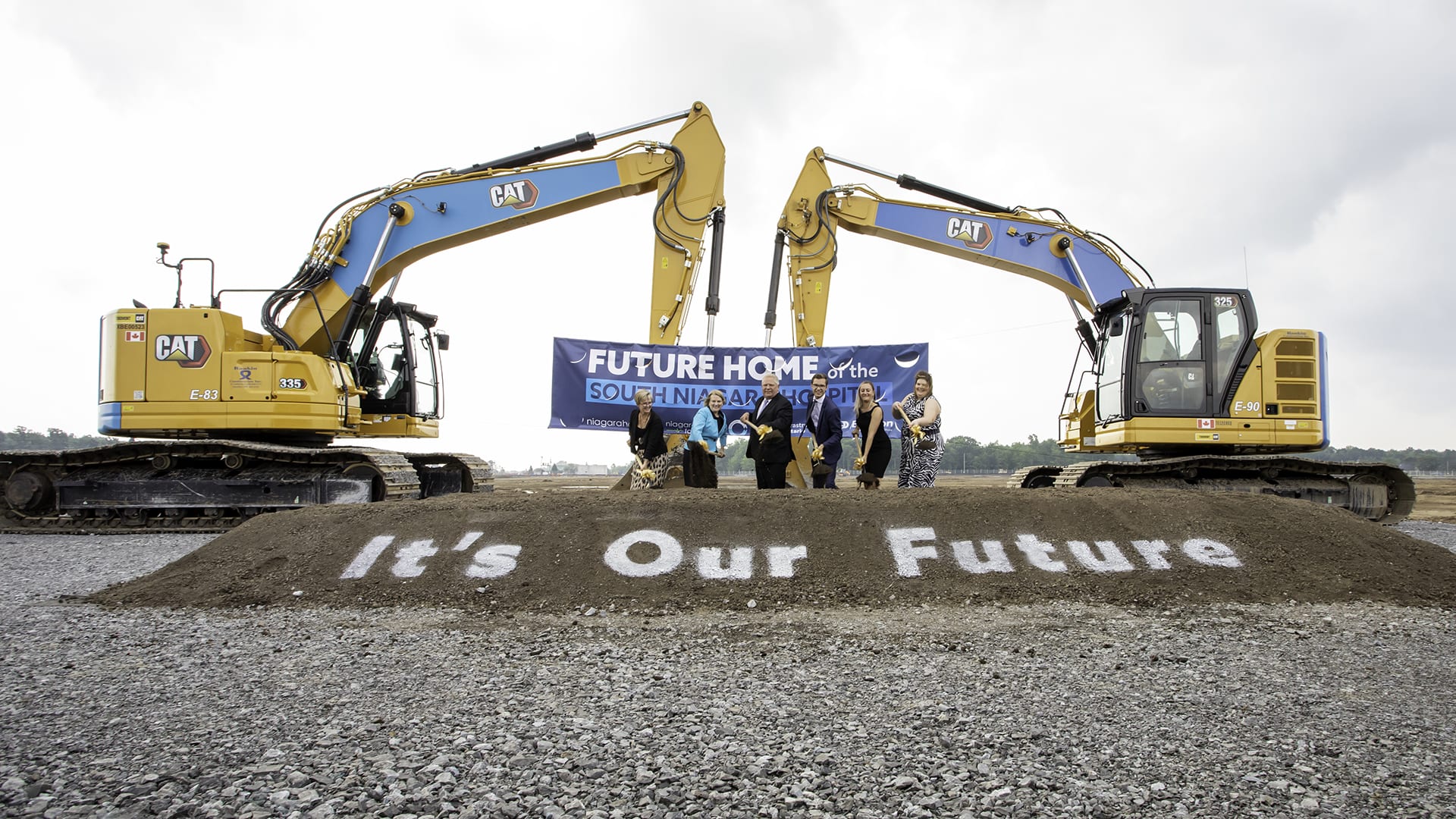 Lynn Guerriero, Niagara Health President and CEO, Sylvia Jones, Deputy Premier and Minister of Health, Premier Doug Ford, Sam Oosterhoff, Niagara West MPP, Kinga Surma, Minister of Infrastructure, and Andrea Scott, Niagara Health Foundation President and CEO, gathered Tuesday to break ground on the new South Niagara hospital in Niagara Falls. The groundbreaking event, attended by about 300 people, officially marks the beginning of construction on the hospital, expected to open in summer 2028.
After more than a decade of planning, Niagara residents are celebrating the start of construction on the new South Niagara hospital.
On Tuesday, July 18, Premier Doug Ford along with Sylvia Jones, Deputy Premier and Minister of Health, and Kinga Surma, Minister of Infrastructure, joined Niagara Health and the Niagara Health Foundation to break ground on the 1.3-million-square-foot hospital.
"Today's groundbreaking event for the new South Niagara hospital brings us one step closer to connecting the people of the growing Niagara region to more convenient care close to home for generations to come," said Premier Doug Ford. "Right across the province, we're investing nearly $50 billion over the next 10 years to support more than 50 major hospital projects. When it comes to your health, we're building a healthcare system that all Ontarians deserve." 
Located in Niagara Falls at the corner of Montrose and Biggar roads, the South Niagara hospital will increase regional healthcare capacity. The facility has been designed to meet the growing needs of Niagara's aging population, featuring centres of excellence in complex care, wellness in aging and stroke.
"It is a pleasure to be here for this historic milestone for the residents of Niagara Region," said Sylvia Jones, Deputy Premier and Minister of Health. "The new South Niagara hospital will significantly increase capacity to meet the needs of the region's growing and aging population, ensuring Niagara communities can connect to the care they need, right in their own community close to home." 
Close to 300 guests witnessed the milestone event, including donors, local elected officials, Indigenous partners, community and patient partners, and Niagara Health leaders.
"Niagara residents have been planning, wishing, and waiting for this hospital for more than 10 years. I am thrilled that today we have officially broken ground on this exciting new facility," said Lynn Guerriero, President and CEO of Niagara Health. "The hard work, planning, fundraising, and dedication from our teams and the community is making this dream a reality. We are one step closer to building a state-of-the-art hospital that will transform how we deliver healthcare in the region and allow Niagara residents to get the care they need right in our own community."
A Canadian first
The 12-storey building will hold 469 single patient bedrooms, eight operating suites, 42 hemodialysis stations and two MRI machines. It will offer a full scope of hospital services, including emergency, critical care, diagnostic, therapeutic and surgical services.
The South Niagara hospital is also working to become the first WELL-certified hospital in Canada. By including design features that focus on the health and well-being of hospital users, including staff and physicians, Niagara Health will be able to offer a more positive workplace environment, which will help to attract and retain top healthcare professionals. The hospital will also feature an Indigenous healing space and garden that was designed with input from our Indigenous partners. These spaces were incorporated to create culturally safe and welcoming areas for Indigenous Peoples.
In February 2023, EllisDon Infrastructure Healthcare (EDIH) was awarded the $3.6-billion contract to design, build, finance and maintain the hospital. Teams have been busy working with Niagara Health staff, physicians, and patient and community partners on design development, ensuring the hospital design meets the complex needs of this state-of-the art healthcare facility that will serve Niagara for years to come. The use of local sub-contractors and workers is a priority for the hospital project, which will bring multi-year economic benefits and boost employment and community growth in Niagara. EDIH has committed to exploring opportunities to support local business during construction, and has awarded early sub-contracts to local businesses and labour unions.
"Our government is committed to investing in healthcare and healthcare infrastructure across the province. This is a very exciting day for Ontario, and for the Niagara region, where so many lives will be changed for the better because of this project. I'm proud of all the work our government is doing to build Ontario – strengthening communities like this one by making them better places to live, work, and raise a family," said Kinga Surma, Minister of Infrastructure.
Decew Construction (Rankin Construction) has already begun site work on the property in preparation for the construction trailer complex, which will be installed in the coming weeks. Excavation will begin by the end of the summer. The hospital will take five years to complete, with the official opening planned for summer 2028.
Quotes
"This groundbreaking marks the second hospital in Niagara with shovels in the ground since our government took office. The construction of the new South Niagara hospital is a testament to Premier Ford's commitment to healthcare in Niagara. From building new hospitals to training more nurses and healthcare workers, the Ontario government is on a mission to ensure every patient and family in Niagara receives world-class healthcare when and where they need it.  My sincere congratulations to Niagara Health and thanks to all who have worked to get this monumental project to this point!"  
– Sam Oosterhoff, MPP for Niagara West
"On behalf of the Board of Directors for Niagara Health, thank you to the province for your ongoing investments and support for the residents of Niagara, and thank you to our local government officials and the community for your continued input and generosity. We are very excited about transforming how we deliver care to create a healthier Niagara, and are well on our way to achieving our vision to provide connected care for all communities across the region."
– Marylee O'Neill, Board Chair, Niagara Health    
"On behalf of the Niagara Health Foundation, I want to thank the entire Niagara community and offer my appreciation for their support for the vital resource of a new hospital, which will surely save lives. Niagara will be well served by this state-of-the-art health facility for many decades. The community has proven time and time again that when we work together, we can achieve anything. We are grateful to the Ontario government, the various Niagara government bodies at work, the extraordinary Niagara Health team and the community full of tremendous supporters." 
– Albert Iannantuono, Board Chair, Niagara Health Foundation
"Today marks a historic milestone for the Niagara region and the Niagara Health Foundation as we break ground on the new South Niagara hospital. We are immensely grateful for the overwhelming support we have received for the It's Our Future campaign, with over $50 million in pledges already committed. These generous contributions not only demonstrate the unwavering belief in the future of healthcare in Niagara but also serve as a testament to the deep-rooted passion and unity within our community. As we continue on this incredible journey, I extend my heartfelt gratitude to every individual and organization who has embraced our vision, and who will join us on this campaign. Your donations and support reinforce the power of collective impact and the profound change it can bring. Together, we are shaping a legacy of care that will uplift our community and be remembered for years to come."
 – Andrea Scott, President and CEO Niagara Health Foundation
"Infrastructure Ontario is proud to celebrate this incredible milestone today with our partners at Niagara Health, EllisDon Infrastructure Healthcare and the Ontario government. The new South Niagara hospital project is a testament to both partnerships and progress, and the scale is truly remarkable. Designed with input from surrounding communities, the new hospital will include Indigenous healing spaces and gardens, and be the first WELL®-certified hospital in Canada. As construction kicks off this summer, we look forward to seeing this outstanding example of our work to ensure the delivery of quality healthcare for all Ontarians come to life." 
– Michael Lindsay, President and CEO, Infrastructure Ontario 
"Today is an exciting day for our community. Since first elected in 2014, I've been a strong advocate for this project to ensure our residents have the healthcare they deserve. I commend all the staff at Niagara Health and local elected officials for their constant and tireless work to make today a reality. Our commitment to our publicly funded and publicly delivered healthcare system doesn't end here — I will continue to work each day to ensure everyone in our community has access to the healthcare services they need." 
– Wayne Gates, MPP for Niagara Falls, Niagara-on-the-Lake and Fort Erie 
"On behalf of Niagara Regional Council, I am pleased to join with representatives from the provincial government and Niagara Health to celebrate the groundbreaking of the new South Niagara hospital. Through our $45-million investment to this project, Regional Council continues to demonstrate its commitment to the health and well-being of the residents of Niagara. The Region's contribution to this project will help ensure that residents will have access to world-class hospital facilities for generations to come as Niagara continues to grow better together." 
– Regional Chair, Jim Bradley 
"This incredible hospital will raise the bar in healthcare in our region for generations of families. It will be the centre of excellence our residents deserve, with the newest and latest technology and equipment that will attract the brightest and best doctors, which will lead to the very best healthcare. Today marks the next step on this journey to up-level healthcare in Niagara Falls and South Niagara."  
– It's Our Future Campaign Co-Chairs Harry Oakes and Niagara Falls Mayor Jim Diodati 
"Breaking ground on the new South Niagara Site is a good step toward building a more efficient and sustainable healthcare system in the Niagara region. As we kick off construction and build momentum with the new hospital, I will keep pushing for additional community health resources for residents of Port Colborne and those who don't live close to the new site. Having community-based health resources working effectively in concert with hospital services creates a best-case healthcare scenario for residents across the region."  
– Mayor William Steele, City of Port Colborne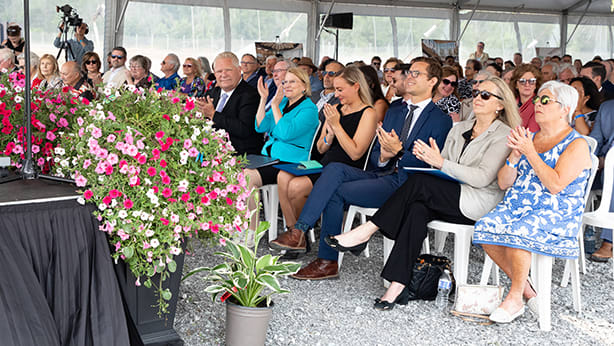 Watch
Watch the full video replay of the Groundbreaking Ceremony