We are Niagara Health is a series of stories that celebrates the incredible people working and volunteering in our organization and how they make a difference in the lives of patients and coworkers every day.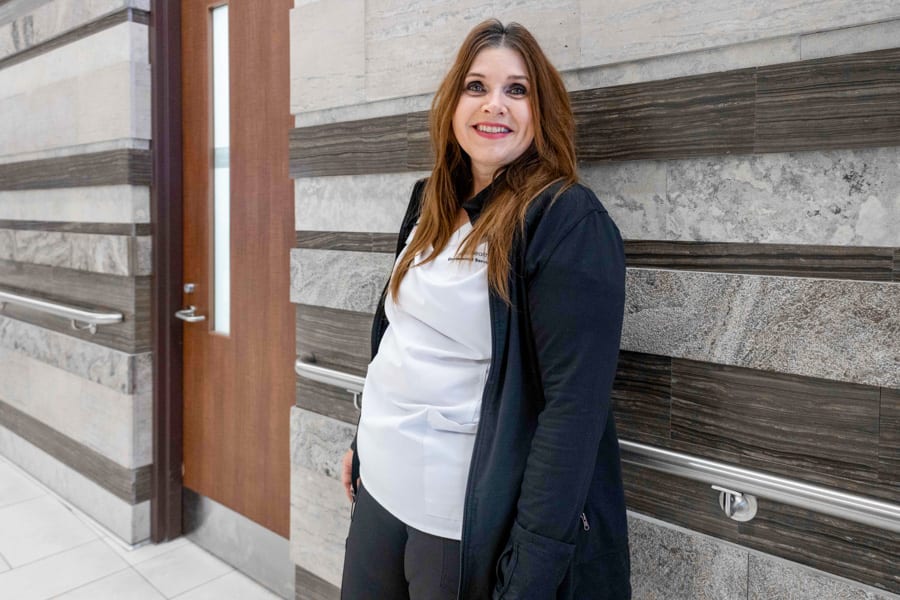 Environmental Services (EVS) Aide Rose Michaud is one of 400 EVS team members being celebrated this week during EVS Week. Michaud helps to keep one of the busiest areas of the St. Catharines hospital clean every day and greets staff, physicians, patients and visitors with a smile. 
There are to-do lists and then there is Rose Michaud's to-do list.
The Environmental Services (EVS) aide starts her day by cleaning the public washrooms on the main floor of the St. Catharines hospital. She follows that up with tidying the education centre and cafeteria before tackling the washrooms on the second floor.
Then she does a sweep of volunteer resources, the Niagara Health Foundation offices, Central Registration and the security desk. She also ensures masks are stocked at the front and back entrances, and empties garbage bins.
And that's all before lunch.
"It is a lot to do," Michaud says with a smile. "It's a rewarding job. EVS makes the hospital a better place to be by keeping it clean."
It's also a better place for having Michaud lend her cleaning prowess to one of the busiest areas of the hospital. She does it all while offering cheerful hellos to visitors and patients, and sharing in conversations that ensue from those greetings. She also won't get upset if you walk on her freshly washed floor before it dries.
Michaud, a 21-year EVS veteran, was recognized with a Driven by Optimism Award at this year's Awards of Excellence for all she does – and for doing it with a smile.
"I like being around people – the environment, just being around people and making people's lives better," she says. "We do play a pivotal role in keeping things sanitized for everyone."
During the pandemic, Michaud and her 400 fellow EVS team members – 180 of whom are caretakers of the St. Catharines Site – were Niagara Health's first line of defence against COVID-19, maintaining infection, prevention and control standards to keep everyone coming into the hospital safe.
Last year, the entire EVS team received the Extraordinary Team Award at the Awards of Excellence, underscoring their tireless diligence in supporting the operations of Niagara Health so clinical teams could continue working as seamlessly as possible.
"EVS team members are present in every square foot of Niagara Health every day, maintaining and preparing the best environment for everyone to live their best lives and have the best possible patient experience," says Kevin Traynor, Director of EVS, Patient Transportation, Waste and Linen Services.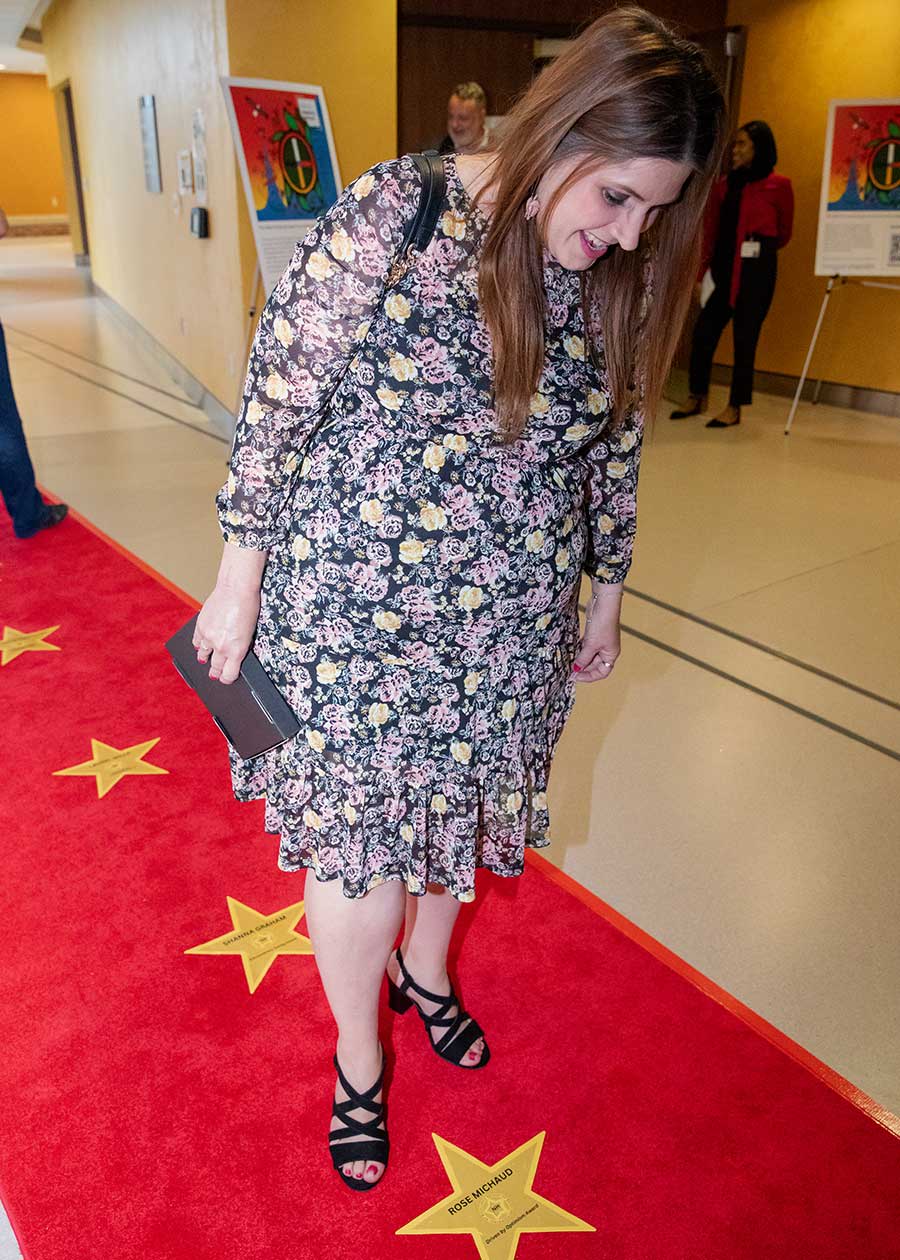 Rose Michaud checks out her star on the Walk of Fame at this year's Awards of Excellence where she received the Driven by Optimism Award.
"Beyond the physical work, EVS team members pride themselves in making every interaction the best it can be to promote an environment of caring and compassion," he adds. "Rose is often the first face patients, visitors and volunteers see when they arrive at Niagara Health and they are always greeted with a smile and a warmth that lets them know she is here to help improve their day. We are incredibly fortunate to have team members as caring, kind and hard-working as Rose."
Michaud was in her early 30s with a young family when she started her role with EVS at the former Hotel Dieu Hospital in St. Catharines.
It was out of necessity – her husband lost his job and there were bills to pay. But Michaud never treated her role as a stop-gap. Her youngest daughter, Jennifer Desrosier, has since joined the EVS team for the opportunity it provides.
In 2005, Michaud transferred to the former St. Catharines General Hospital. When the new hospital was built, she was seconded to help ready the building for people, being one of the first Niagara Health employees to work in it before it officially opened in March 2013.
She's knows every area of the building as a result. Over the years, she's worked in dialysis and chemotherapy clinics where she would lend her ear to patients as she cleaned. It's a privilege she doesn't take lightly.
She once received a star, usually awarded by patients to outstanding members of care teams, for consistently brightening the day of a palliative care patient.  
"A lot of people can't talk to their families but feel they can talk to you about things," Michaud says. "I give them a shoulder lean on."
Her advice to new EVS aides is to "do your best with a smile" and see the opportunity before them, "even if it's a stepping stone to get into a different department with more education," she says. "It's a very good place to work."
Of course, a little optimism helps, too, especially with a to-do list as long as hers.
"I always look on the brighter side of life," Michaud says. "It helps a lot of patients, too, if you're connecting with them on a positive note. The people coming into the hospital are having a hard time and need some cheerfulness in their lives, someone to listen to their stories and tell them things do get better."
Environmental Services Week runs Sept. 10-16, 2023, and is a time to show appreciation for the dedicated EVS personnel who ensure health care facilities across the country are clean, safe places for patients, their families and other staff members.