We are Niagara Health is a series of stories that celebrates the incredible people working and volunteering in our organization and how they make a difference in the lives of patients and coworkers every day.
From left: Shyann Jenkins, Kate Bellon and Jessica Baskin are the newest members of Niagara Health's Indigenous Health Services and Reconciliation Team. 
Accessing healthcare is easier for some people than others.
Knowing the barriers Indigenous Peoples can face in getting care, Niagara Health established an Indigenous Health Services and Reconciliation (IHSR) team in January.
The arrival of Charity Beland as manager and Indigenous Relations Specialist Jolene Courchene signified an important change for Indigenous patients coming into the hospital. They would have dedicated, culturally sensitive support alongside them on their healthcare journeys at Niagara Health and even when patients return to community.
Beland and Courchene's impact has been huge in the short time they've been here. Less than a year later, the IHSR team has grown to include three more roles critical to ensuring safe, quality care.
Meet the newest team members dedicated to advocating for the health and well-being of Indigenous patients and their families.
Jessica Baskin, Indigenous Patient Relations
Jessica Baskin has made a career out of being a familiar face.
The Mohawk woman and member of the Turtle Clan plans to continue along that trajectory at Niagara Health as the first person overseeing Indigenous patient relations for the organization. Getting to know Baskin means having the best possible healthcare experience – for those receiving the care and those providing it.
"I know that having a familiar face and lived experience will help patients during a time when they need it most," Baskin says. "I see my role at Niagara Health contributing to that by creating positive change and walking with community, providing as many supports available while accessing healthcare services. If I'm able to assist in providing a less stressful environment and provide quality supports, this will assist community to have a better experience."
She knows that from her previous roles as a mental health and addictions intake worker with De dwa da dehs nyes>s Aboriginal Health and providing administrative support at McMaster University's Indigenous Health Lodge, which works with the Faculty of Health Sciences to create a culturally safe learning environment that enables sustainable systems change for all aspects of Indigenous health and well-being.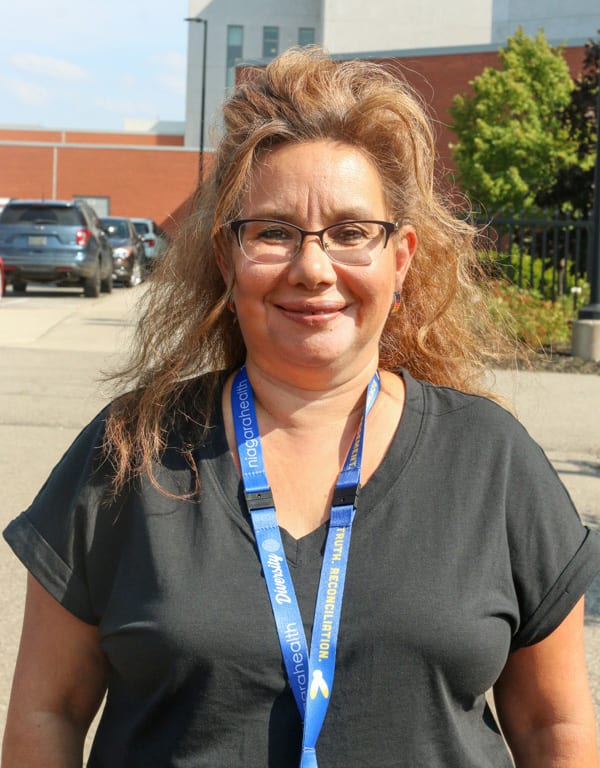 Jessica Baskin, Indigenous Patient Relations
Baskin has seen the benefits of that work and it's a legacy she intends to bring to Niagara Health.
"I wanted to join the IHSR team at Niagara Health because I was aware of the amazing work the team was engaged with. The seed has been planted and I wanted to be part of that growth," she says. "I want to be part of a team that continues to support community and colleagues, allowing for growth and connections."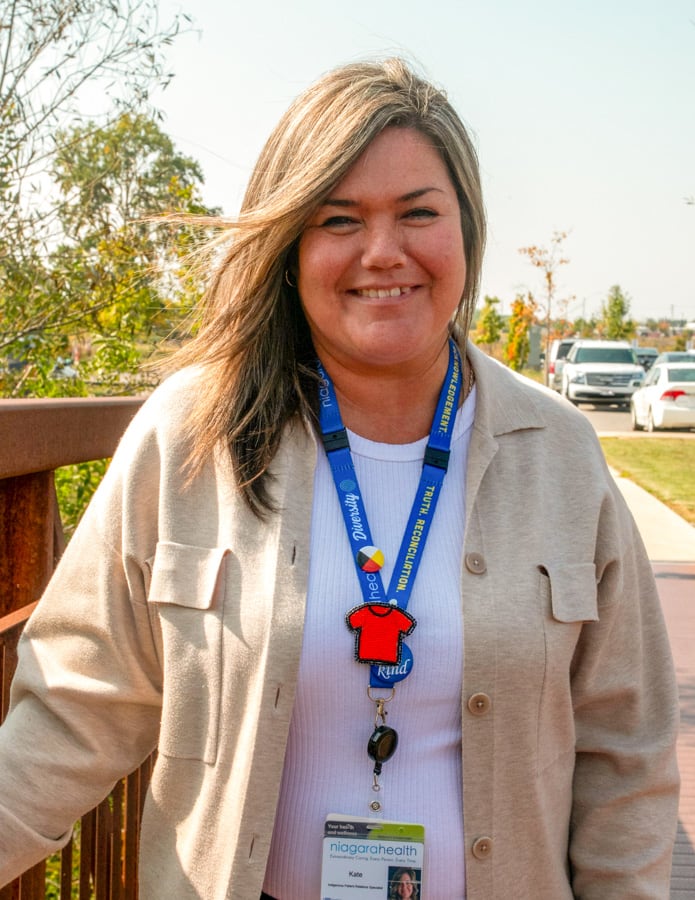 Kate Bellon, Indigenous Relations Specialist
Kate Bellon, Indigenous Relations Specialist
With a milestone birthday on the horizon, Kate Bellon is more focused than ever on effecting positive change.
That's not to say the Anishinaabe woman from Garden River First Nation near Sault Ste. Marie hasn't already had profound impact in the nearly two decades she's worked with Indigenous youth on education and life skills initiatives.
These days, though, healthcare is her calling as she steps into the Indigenous Relations Specialist role, done in tandem with Jolene Courchene.
"I need to make sure that I'm making some kind of ripple effect of change and I feel that I can do that here and I will be supported, that I can help my Indigenous community here and stretching across all of Ontario," Bellon says. "This is where I want to be."
Bellon isn't entirely new to healthcare. Her mother was a registered nurse in long-term care for 34 years. Bellon lived vicariously through the stories she shared.
Indigenous advocacy is the one-line plot summary of her resume, with roles at the Niagara Regional Native Centre, John Howard Society and NPAAMB Indigenous Youth Employment and Training. Bellon's formal training is in addictions counselling and she holds a degree in Indigenous studies from Wilfrid Laurier University.
But it's the stories of her mother being part of the Sixties Scoop, and her frontline experience helping people experiencing poverty, addiction and mental distress that she considers to be her true qualifications for the work she will do at Niagara Health. They "make me Kate," she says.
And that means better outcomes for everyone involved.
"I want to be that change and support for people here at the hospital and in healthcare," Bellon says. "I want everyone to feel safe when they come here and have a positive, healthy, rich experience."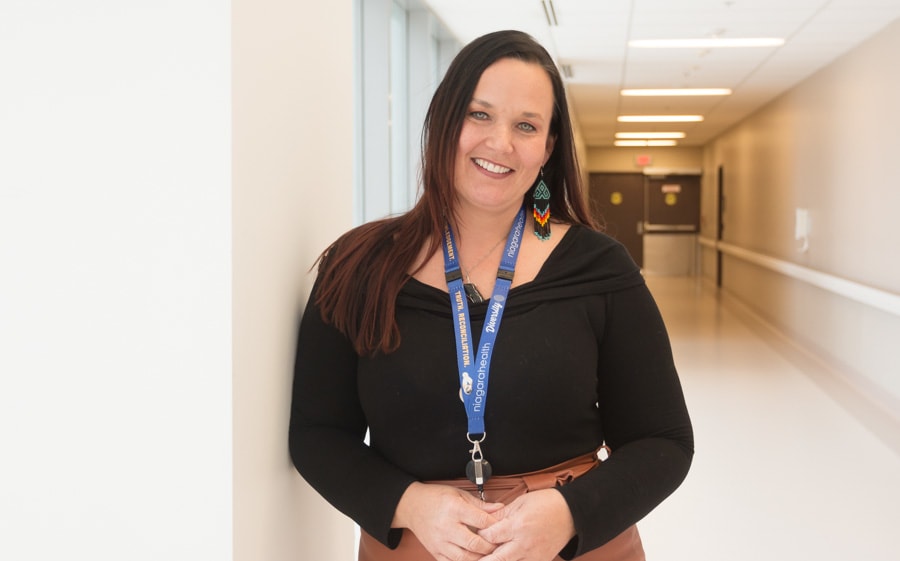 Charity Beland, Manager, Indigenous Health Services and Reconciliation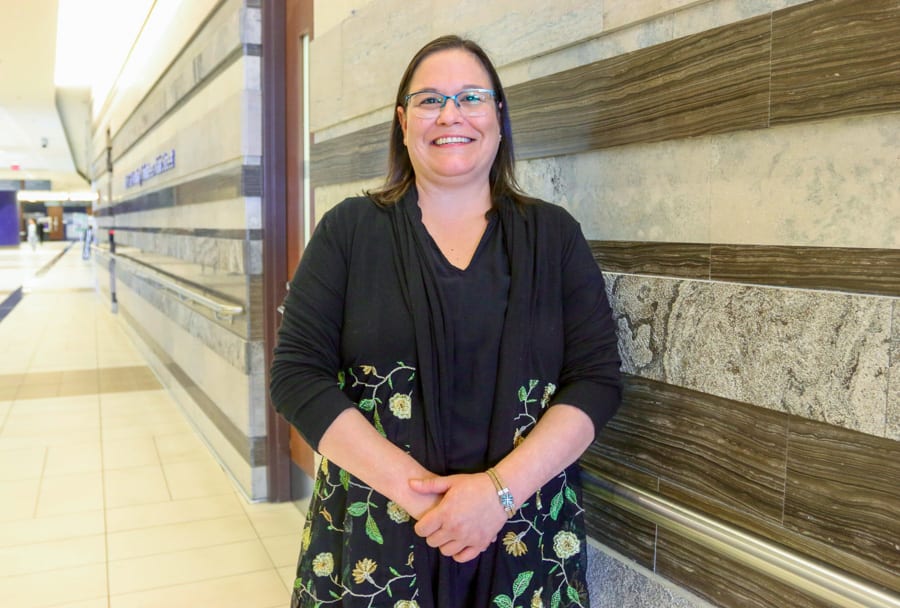 Jolene Courchene, Indigenous Relations Specialist
"Having our team to walk alongside their path for a short time while in hospital to support with advocacy, traditional healing, access to medicines and connections to community is going to better our community's overall health."
Shyann Jenkins, Indigenous Community Outreach and Engagement
Shyann Jenkins has been driven to promote wellness and healing in people since she was a child.
And since the Cayuga Turtle Clan woman was a child, she has meticulously done everything she could to be in a position to do that.
Jenkins started in high school in Hamilton by job shadowing in local hospitals. She worked as a pharmacy assistant for more than five years and trained to be a personal support worker, even upskilling to become a registered practical nurse (RPN).
When the pandemic forced Jenkins to hit pause on her RPN studies, she didn't stop moving toward her childhood goal. Instead, she shifted her focus to Indigenous healing and supporting the well-being of young people through traditional teachings and song.
Becoming the first person in Niagara Health's history to oversee Indigenous Community Outreach and Engagement is a culmination of all that training and experience.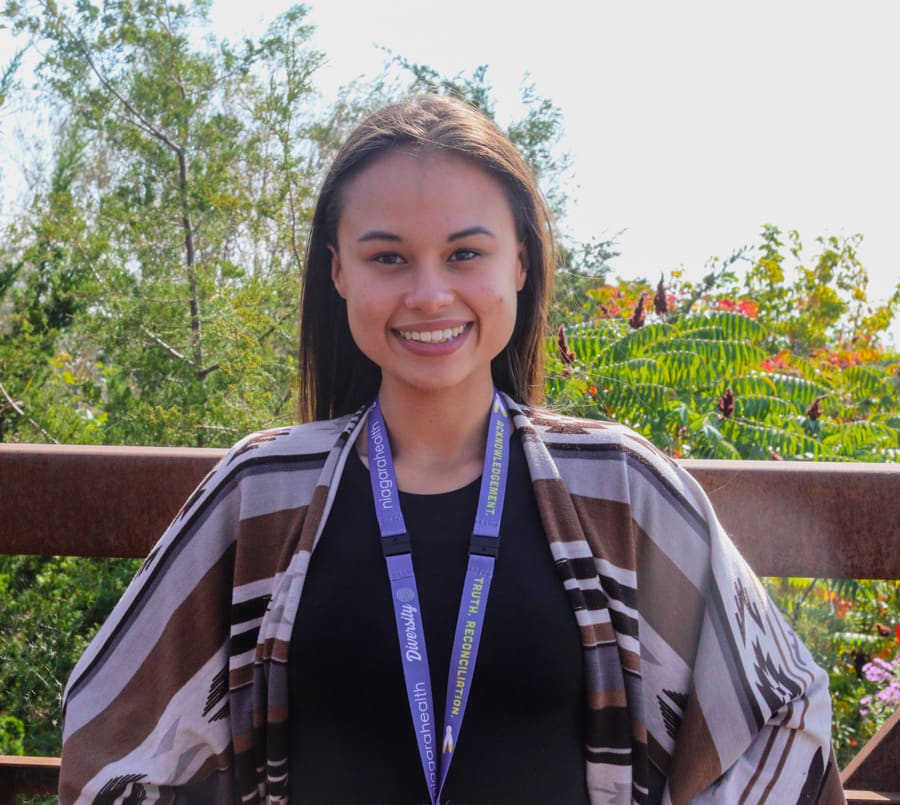 Shyann Jenkins, Indigenous Community Outreach and Engagement
In her role, Jenkins will engage with staff and community members to create a safe space for Indigenous Peoples in the hospital. She'll also support patients by connecting them to community organizations and programs to continue their healthcare journey beyond Niagara Health.
All in, it's a dream job.
"I have dreamed to be the safe face for Indigenous people inside the hospital setting, to create that safe space for Indigenous patients to open up and receive the best healthcare treatment possible," Jenkins says. "I want to be able to share the understanding that for Indigenous people, their health and wellness encompasses every aspect of life, physically, mentally, emotionally, spiritually."
Improving healthcare and establishing practices that result in positive experiences for Indigenous patients is good for everyone, she notes.
"We believe that if we can create policies and procedures that create a better healing experience for Indigenous patients that the experience of all nationalities would improve," Jenkins says. "Having our team to walk alongside their path for a short time while in hospital to support with advocacy, traditional healing, access to medicines and connections to community is going to better our community's overall health."