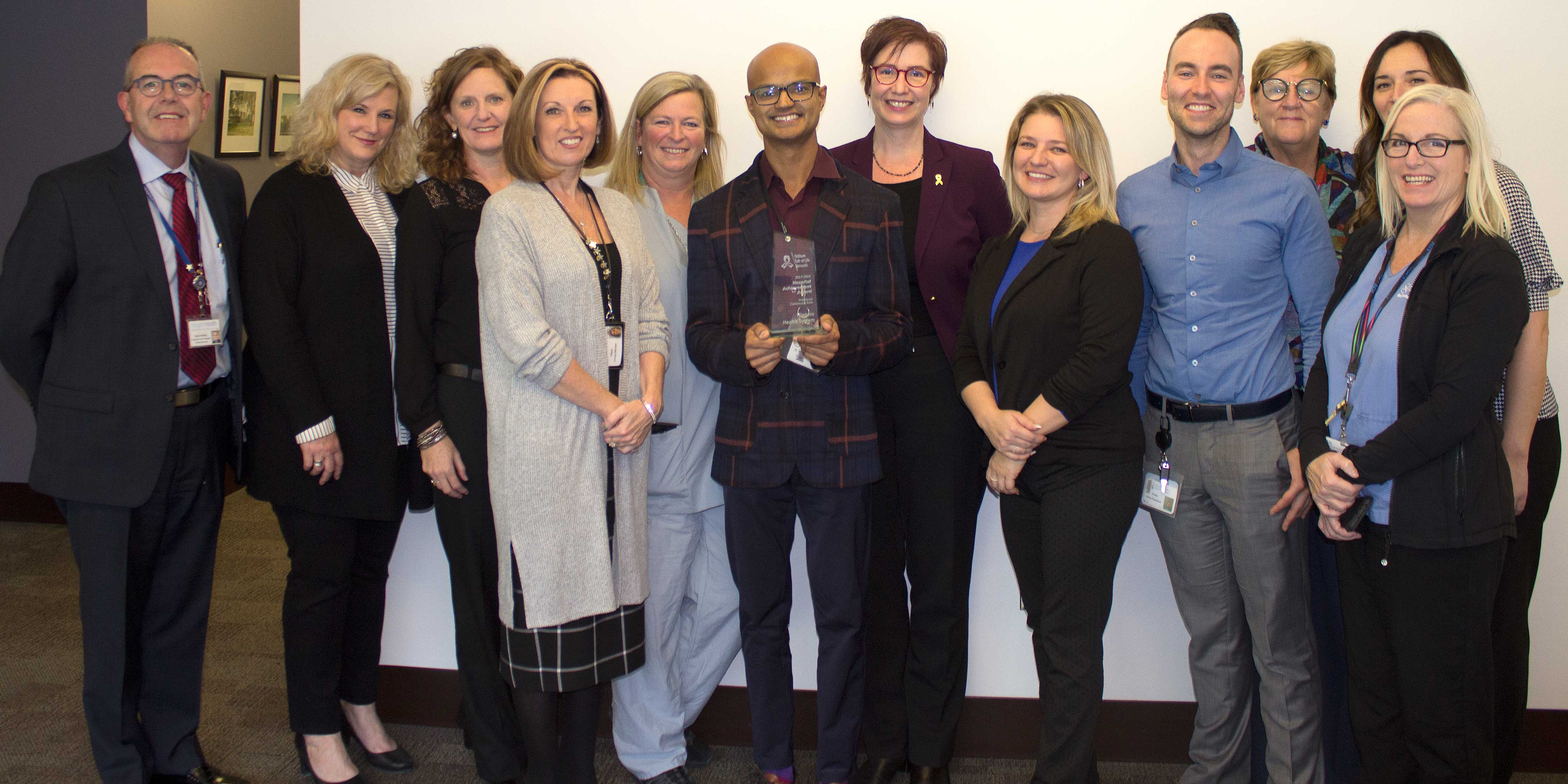 As we look forward to the promise and hope a new year brings, we're also looking back on what was an exceptional year at Niagara Health.
Thank you to our team – staff, physicians and volunteers – and our patients and families for their remarkable contributions to healthcare and being a part of our journey to create a Healthier Niagara.
Here are some of our proud moments from 2018:
HEALTHIER NIAGARA
We take great pride in the progress we are making with our 10-year strategic plan. In Year 3, we continue to see enhancements in patient    care through our strategic initiatives. We are collaborating on a number of initiatives that target areas of medication safety, patient flow and quality of care that directly impact every aspect of a patient's healthcare journey, and the work environments of our teams. Our Unit-Based Teams initiative is spreading, and we've seen increased engagement level of our teams since we started more frequent employee engagement surveys asking them about the quality of their work life. Learn more about our strategic plan here.
PROMOTING ORGAN DONATION
We were recognized by Trillium Gift of Life Network (TGLN) for meeting important organ and tissue donation benchmarks over the past year. TGLN recognized Niagara Health with the Provincial Conversion Rate award. Between April 2017 and March 2018, Niagara Health was among 24 Ontario hospitals to meet TGLN's target of a 58 per cent conversion rate. A conversion rate is the number of potential organ donors who became actual organ donors and is an important indicator of organ donation success for TGLN.
EXCELLING IN STROKE CARE
We continue to stand out when it comes to stroke treatment. A Central South Regional Stroke Network report shows our Niagara District Stroke Centre has one of Central South and the province's top rating for "time to first visit" following stroke symptoms.  This is due, in part, to the Stroke Rapid Referral Clinic's six-days-a-week operation. 

INCREASING ACCESS TO CARE
We launched a new program in Mental Health and Addictions to enhance care and services for people with complex mental health needs. The Wellness Recovery Integrated Comprehensive Care program helps people to fully understand their mental health needs and to identify and develop strategies to improve their wellness.
TOP PERFORMER
A Canadian Institute for Health report showed we are a top performer in the country in a number of areas. Measuring our performance helps identify areas where we are doing well, and areas where we can improve to enhance care.
CARE CLOSER TO HOME
We celebrated the fifth birthday of our St. Catharines Site. The opening of the hospital ushered in a new standard of hospital care in Niagara. New and enhanced regional programs were introduced in St. Catharines and at our sites across Niagara, including cancer care, cardiac care, mental health and addictions, women's and babies' care, stroke care and ophthalmology.
SPOTLIGHT ON RESEARCH
Our first-ever Research Day was a huge success.  More than 100 researchers, students, academics and healthcare workers came to our St. Catharines Site to learn about medical research being done in Niagara and to hear the keynote address, delivered by Dr. Deborah Cook of St. Joseph's Healthcare Hamilton and McMaster University. Our increasing focus on research and academics is transforming healthcare in Niagara.

ACADEMIC PARTNERSHIPS
We're proud of our many academic partnerships. We work with more than 80 academic partners, including Brock University, McMaster University and Niagara College, to provide learning and education opportunities in a number of healthcare-related fields. Over the past year, there were more than 1,900 student placements in clinical and clinical-support positions at Niagara Health.
TOP EMPLOYER
We were named a Top Employer in the Hamilton-Niagara region by the editors of Canada's Top 100 Employers. This special designation recognizes employers in the Hamilton-Niagara area that lead their industries in offering exceptional places to work.
NURSES' ASSOCIATION RECOGNIZES NH
The Registered Nurses' Association of Ontario has again certified Niagara Health as a Best Practice Spotlight Organization (BPSO) for the next two years.  We have been a BPSO since 2003. The designation is awarded to organizations that make a positive impact on patient care though implementation of evidence-based practice and guidelines.
ACTS OF KINDNESS
Our Acts of Kindness Workplace Challenge continues to spread across our organization, and it's even resulted in a blossoming Kindness Rocks Garden! The grassroots movement, which was started by our Information and Communications Technology team two years ago, sees departments complete 1,000 acts of kindness in a month. Nearly 20 departments have participated in the challenge, logging more than 19,000 acts of kindness.
GIVING WAYS
Our caring team of staff, physicians and volunteers showed their giving ways throughout the year as they joined together to support such worthy causes as the Big Move Cancer Ride, the Rankin Cancer Run and the United Way.
FINANCIAL HEALTH
Our financial health continues to improve thanks to the work of our team. 2018 marked the fifth straight year we've had an operating budget surplus to reinvest.