As we reflect on the last year, there are many examples of how we are working with our patients, families, partners and communities as one team to provide extraordinary experiences for the people we serve and create a more seamless and integrated system of care and caring.
We are proud of our leading work to partner with patients, families and community members, bringing their perspectives to decision-making through our new Niagara Health Engagement Network.
Accreditation Canada and Health Standards Organization's acceptance of 17 Leading Practices for Niagara Health is another source of pride and demonstration of the ways our teams are positively impacting safe, quality healthcare.
Our Board of Directors' leadership has been instrumental in strengthening our research and academic mission by further bolstering our partnership with Brock University. Our two organizations are collaborating in new ways to intensify our efforts in research and applied learning, which will increase opportunities to improve the overall health and well-being in Niagara and beyond.
We are also proud of the partnerships we have developed with St. Joseph's Health System, Canadian Mental Health Association Niagara and many other organizations.
And our planning for the new South Niagara Hospital is moving forward. Our Board joined more than 1,000 Niagara Health staff, patients, families, partners and community members at design vision sessions for the new South Niagara Hospital. The design vision outlines the desired look, feel and purpose of the campus and hospital, and we are all impressed by the level of engagement from everyone attending these sessions. We have also received a lot of thoughtful feedback on the design vision through our online survey, and there will be many more opportunities to engage with our stakeholders on this significant investment in healthcare in Niagara.
We are inspired by the work happening inside and outside our hospital walls to achieve our vision of a healthier Niagara. We encourage you to read on to learn more about these and many other impressive accomplishments.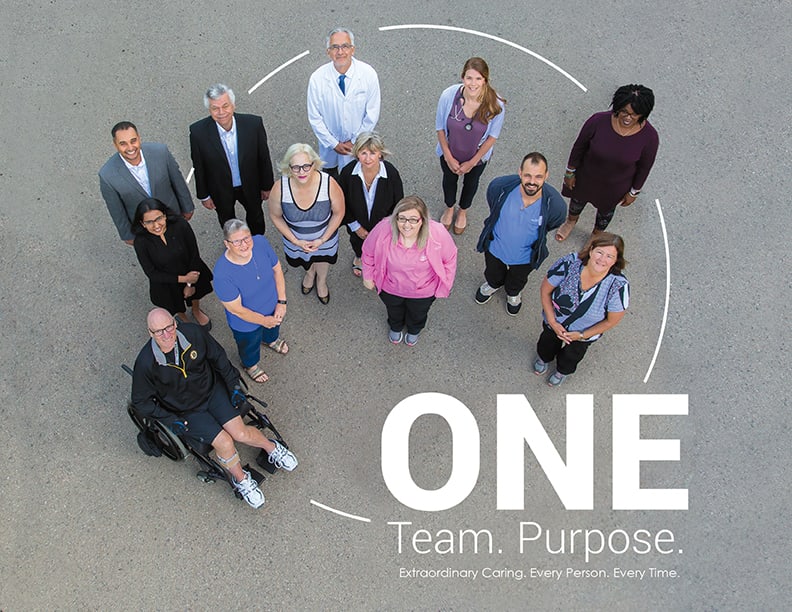 Members of our Niagara Health Engagement Network are part of our team, sharing their experiences and perspectives to help us deliver on our commitment of Extraordinary Caring. Every Person. Every Time.
Thank you to our partners, Bob Asham, Kirtan Kadia, Susan Gibson, Rose Dzugan and John Storm, and to our staff, Director Zeau Ismail, Manager Karen Paschert, Registered Nurse Karen Buckle, Director Sonia Pagura, Registered Practical Nurse Tristen Castro, Nurse Practitioner Jennifer Lee and Registration Clerk Cassie Edgar, and physician leader Dr. Julian Dobranowski for being part of the photo.